A review of Sam Wainwright Douglas's 2017 film Through the Repellent Fence discusses some of the hottest artists right now, the Postcommodity collective: The Repellent Fence simultaneously denaturalizes and socializes the US-Mexico border, working against its common misrepresentation as an evacuated no man's land.  It draws our attention, instead, to the dense social relations and operations that characterize "the most geospatially contested area in [the] Hemisphere," especially as they pertain to indigenous people, who are both divided by the border and erased from discourses about it, yet persist nonetheless.  While Postcommodity has created other works that engage this same geography—most notably, A Very Long Line (2016), which was included in the 2017 Whitney Biennial—Chacon, Martínez, and Twist don't consider themselves to be "border artists" per se.11   Rather, such pieces get at the structural and ongoing forms of dispossession tied to "the militarization of ancestral homelands," wherein the border fence acts as a "filter of bodies and goods—a mediator of imperialism, violence, market systems, and violence capitalism."
As such, his documentary not only relays a highly layered and timely contemporary artwork to the wide art and non-art audiences that it deserves, but also provides a rich tool for the classroom.
While the US-Mexico border has long been a locus of cultural and geopolitical struggle, it has come under renewed limelight with President Trump's calls for banning immigrants and completing a wall to run along its almost two-thousand-mile length (currently, only 650 miles are built). Aside from the obvious relevance of this subject matter, The Repellent Fence arrives at a moment when indigenous cultural practices—from activism (e.g., at Standing Rock) to art making by a "generational vanguard of Native artists that has refused to be ghettoized or confined to identity politics or traditional mediums"34—are becoming more visible within Western art and academic contexts.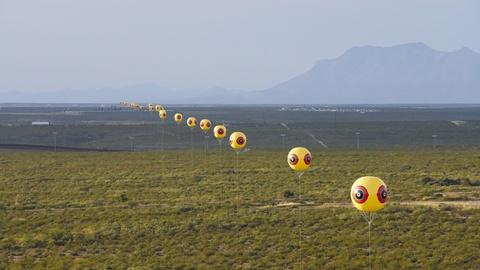 Source: Required Reading